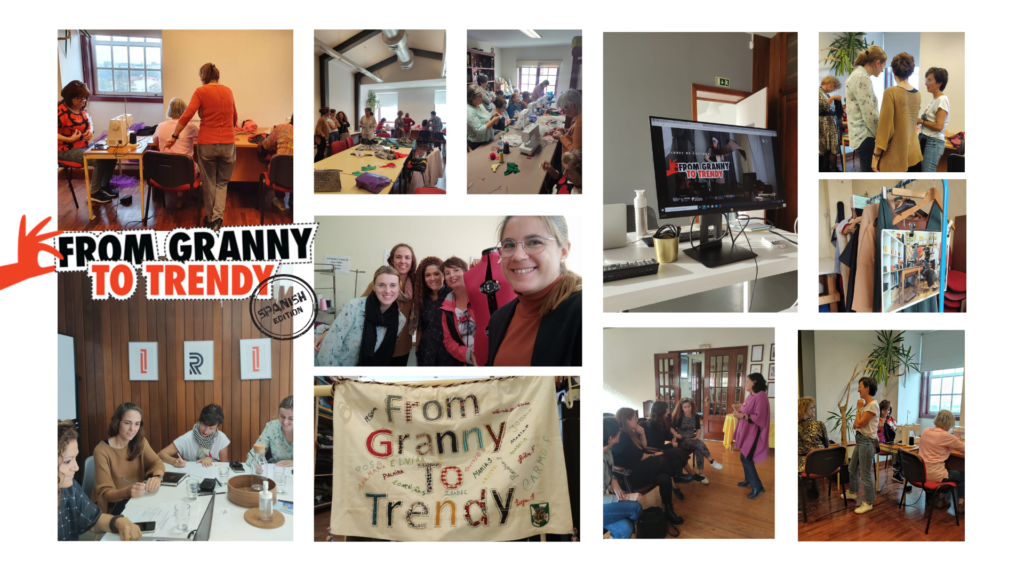 The 4 monitors (Andrea, Isabel, Sara and Mapi) travelled from Spain to Porto traveled for a full immersion in the Portuguese project and learn as much as possible for its replication in Zaragoza.
During three days, they received an intense training: they were introduced to the methodology and the framework of the initiative, explained how to evaluate the impact of this program, the role and responsibility of the stakeholders and, finally, they visited the workshops where the participants make their creations.
Among other things, they also delved into the mistakes and difficulties that our Portuguese colleagues have experienced over the years. They also explained clearly the phases that the initiative must have to develop it successfully:
✓ Introduction phase: diagnosis of the territory and study of existing activities.
✓ Preparatory phase: Identification of the target audience and creation of a social network.
✓ Implementation phase: sewing workshops, coexistence, fashion photography, creative sessions, fashion shows….
✓ Integration phase: counting on the beneficiaries as a great support to other local activities in circular economy and education for responsible consumption.
The visits to the different ongoing workshops was a great way for the monitors to learn first hand, speak with the participants as well as with the portuguese monitors of those workshops. 
The training has also served for monitors to learn about innovative and creative solutions for social inclusion of women, knowledge and practical tools in the application of circular and sustainable fashion such as the upskilling techniques used in these workshops, as well as tools for women empowerment and self-value and worth.
This training has also served to train trainers to give continuation to the «Granny to Trendy» workshops and all that these can bring to communities and Spanish society in the future and not only for the duration of the project.