The project seeks to share knowledge and best practice through sustainable social inclusion and creative active aging initiatives for adult women. The activities contemplated are a direct contribution to the lives of women aged over 50, not working outside of the active life, their wellbeing and participation in society, through fashion workshops using a methodology tested in 4 Portuguese cities since 2013. A special impact is also sought in adult educators & young designers and students.
2021-2-ES01-KA210-ADU-000049055
K2 – Erasmus+ 2022
The From Granny to TrendyWorkshops (Spanish Edition) project is co-funded by the Erasmus+ programme of the European Union. The content of this website is the sole responsibility of the project partners and neither the European Commission nor the Spanish Service for the Internationalization of Education (SEPIE) is responsible for any use that may be made of the information contained therein".
Copyright: Any use of the content and photographs must correctly cite the project and/or photographer.
For any special requests please make use of the contact form on this website.
The project From Granny to Trendy Workshops (Spanish Edition) aims to fill the gap in occupational activities offered to women over 50, offering to them a sewing workshop where they can meet, talk, create and learn with each other. As a result, we promote new skills, preserve the environment and promote the sharing of new experiences and knowledge, in an intervention model that promotes social inclusion in a creative way.
For us, age is an asset. Every woman has her individual talents, stories, passions and skills that, when empowered, make each one feel more and more useful and special. Whether through our workshops or our fashion shows we demonstrate the full potential and beauty of these women and the care and passion with which they work in something that gives them pleasure.
The project aims to empower and value women's knowledge, where emotional ties and self-esteem are stimulated in partnership with the community and where these women can simply be themselves, regardless of their condition or age. We also emphasize the value and beauty of the age through a fashion show and professional photography sessions, where these women are not only the creators of the pieces, but also the models demonstrating that «old are the rags» but that even these can have a new life. 
The project will pilot the already successful Portuguese Granny to Trendy workshops that have been running since 2013.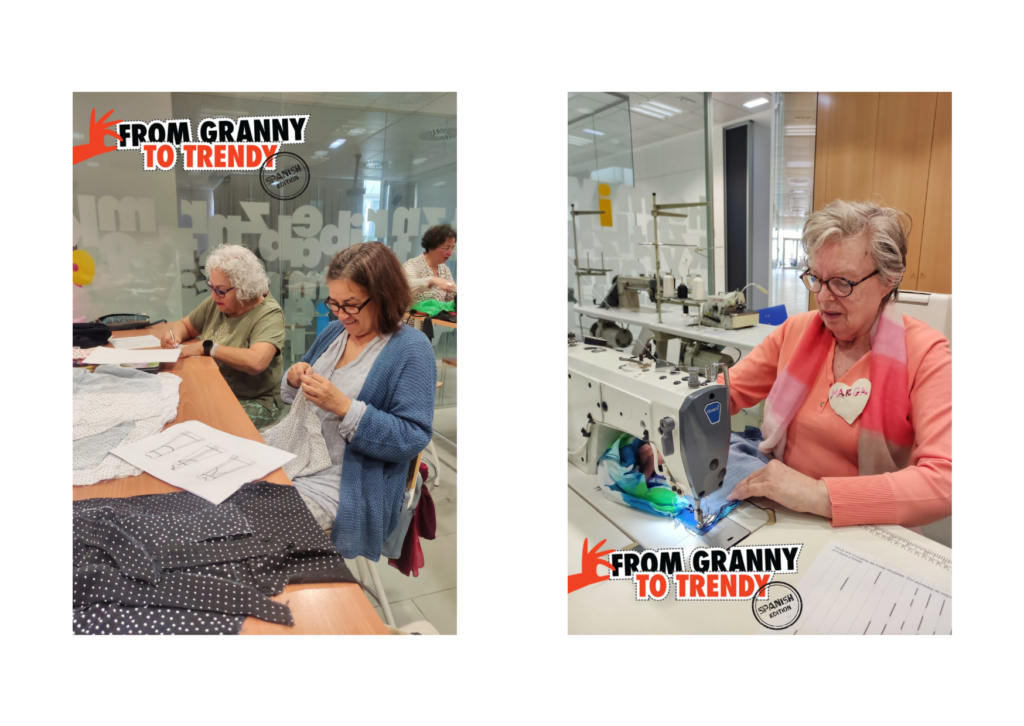 SDG

Pilot of «Granny to Trendy» workshops in Spain will follow the established
5 phase methodology of the original Portuguese workshops.
These 5 phases will take place in two stages for their optimum implementation:
Activities in Stage I
1) Diagnosis of the needs. 
2) Training of monitors.
Activities in Stage II
3) Selection + enrolling of the participants.
4) Workshop implementation.  
5) Evaluation and communication dissemination activities.
The workshops began February 2023 and will end December 2023
Below are photos of the ongoing workshops of the Pilot in Zaragoza, Spain.

Tues.

July 5 2022, 11am:

Pre-Kick-off / Virtual partner presentations.

Mon. September 5 2022, 9am:

Kick-off meeting – TPM / HC Campus (SP)

Fri. October 7 2022, 11am:

Diagnosis of needs / Fundación Isabel Martín (SP) + virtual

Fri. October 21 2022, 10am:

Preparation for Porto travel for training  / HC Campus (SP)

Wed. December 14 2022, 11am:

PMB meeting + scheduling of Workshops / Fundación Isabel Martín (SP) + virtual

Tues. 24 January 2023, 6pm:

Information session with possible participants / Fundación Isabel Martín (SP)

Wed. 15 February, 2023, 11am:

PMB meeting – Workshop + interim report review + / HC Campus (SP) + virtual

Thurs. 16 February, 2023, 5pm:

Informational session with selected participants / Fundación Isabel Martín (SP)

Thurs. 23 February, 2023, 10 am:

  TPM with Project Management Board/ Fundación Isabel Martín (SP)

Mon. 5 June, 2023, 12:15 pm:

PMB meeting + Mid-pilot evaluation / Fundación Isabel Martin (SP)

Fri. 12 June, 2023,  1pm:

PMB meeting with POLYTECHNIC OF PORTO. SCHOOL OF TECHNOLOGY AND MANAGEMENT for impact and evaluation of FGTT Portugal. / Zoom

Thus. 6 July 2023, 12pm:

PMB meeting / Zoom

Wed. 6 September 2023, 9:30am:

PMB meeting  – FIM & HAC_R 

Fri. 3 November 2023, 11am:

PMB meeting / Zoom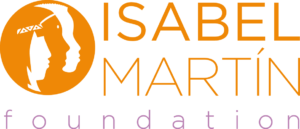 IMF is a Spanish non-profit NGO that mainly works in International Cooperation for Development focused in marginalized women empowering and childhood support. Areas of activity: International Cooperation for Development, Social Action in Spain, Awareness-raising, Volunteering, Fair Trade.
Activities and experience:
Social Action Projects of the Foundation are developed mainly in Zaragoza, Spain. Through its own projects or collaborations with other social entities, the Foundation contributes to improving the quality of life of the elderly, reducing the digital divide in childhood and promoting intercultural dialogue, mainly among women.

International Cooperation for Development Projects of the NGO are mainly focused in women empowerment involving from health and education to capacity building and Income Generation Activities. IMF runs more than 25 projects, with up to 65.000 beneficiaries.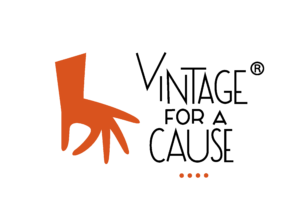 Vintage for a Cause (VC) is circular economy brand with social commitment, focused on reusing textile waste through upcycling while empowering unemployed women over 50.
Within a collaborative platform framework, the brand creates limited editions of timeless designs, gathering, engaging and influencing different stakeholders throughout the value chain towards a more sustainable production and consumption.
Our mission is to lead and inspire a sustainable way to do fashion. VC proposes to provide a unique framework that appeals to a smoother transition to more sustainable production and consumption models, minimizing the expenses and risks for each agent of the value chain.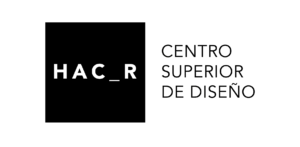 With more than 20 years of education experience, Hacer Creativo is a HEI accredited by the Spanish Ministry of Education, in the field of Fashion and Graphic Design. HC combines academic theory with industry reality to ensure students are educated to succeed in an increasingly demanding market. 
HC, is certified to offer Certificates of Professional Standards on Alterations and Adjustments of Garments and articles in textile and leather (TCPF0109) for the improvement of workplace modules.
The college is active in collaborating in the organization and coordination of projects, conferences, workshops for its students, professors, professionals and the community in general.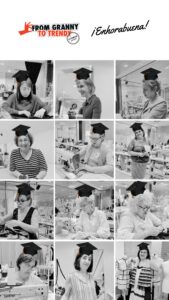 NEWS
Footage from the last workshop of the pilot programme.
Read More »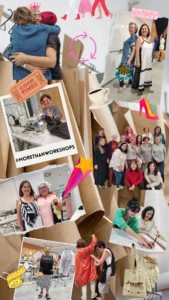 NEWS
The Granny to Trendy Spain project present in the Erasmus+ Days
Read More »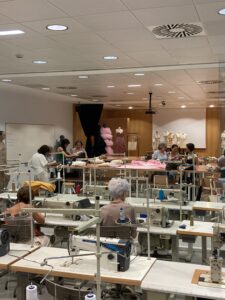 NEWS
After the summer break, the workshops are back!
Read More »